Chapter 1 - Dust, Girls, Battleship
Chapter 1 - Dust, Girls, Battleship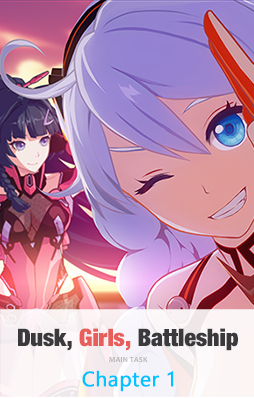 Debut
Global Launch
Notable Rewards
Captains! Shicksal needs your help Navigating our most ambitious B rank Valkyrie Kiana Kaslana! There as been an Honkai Eruption in Soukai City, and we need to take care of it quickly or else Mei sempai will be too exhausted and Kiana will "cook" for us. The lives of Saint Freiya's Squad V rests on your shoulders. Ai-chan believes in you!

Kiana! Quit drifting off to dreamland! You can fantasize about impressing Mei later! Where did this Battleship come from? Maybe we should leave this mission to Himeko-Sensei...
2 Years 5 Months, 16 Days since the 3rd Eruption at Nagazora, Japan. (2013)
A massive Battleship has appeared in the skies near Soukai city (Shenzuo). All communications are silent and the ship is losing altitude. If it crashes, all 34 million of Soukai City's residents Schicksal has sent Valkyrie Squad V from Saint Freiya Academy of Valkyries to board this mysterious ship.
Named the Selene, it contains tech that is far beyond the current era. The ship has a message offering this ship to Kiana if she can retrieve 4 Gems. The Gem of Desire, Haste, Serenity and Conquest.
After accessing the bridge, Bronya Zaychik loses control over herself becoming Black Nucleus. With the help of her squad, she is subdued and released from the mind control.
Mission: Success
Battleship retrieved.
1-1 Go, Kiana!
Valkyrie Kiana boarding target battleship. Let's get started!
Objectives
Complete a 25-hit combo.
Clear stage with less than 25 hits received.
No more than 1 team death(s).
Notable Drops
1-2 Mei's Support
Support? I don't need support! Wait, Himeko... Did you say Mei will be joining?
Objectives
Complete a 25-hit combo.
Clear stage with less than 25 hits received.
No more than 1 team death(s).
Notable Drops
1-3 At Full Speed
Let's get to the lock and meet up with Mei! I'm so excited!
Objectives
Complete a 25-hit combo.
Clear stage with less than 25 hits received.
No more than 1 team death(s).
Notable Drops
S1-1 Battleship Exploration
It's gonna take a little more than a few honkai beasts and deadwalkers to stop me!
Objectives
Complete a 25-hit combo.
Clear stage with less than 25 hits received.
No more than 1 team death(s).
Notable Drops
S1-2 Into the Dream
Finally, we got the first lock open. But, wait... I feel... dizzy...
Objectives
Kill at least 1 enemies during Time Fracture.
Clear stage with less than 25 hits received.
No more than 1 team death(s).
Notable Drops
Act.1 Star Rewards
Collect 7 stars
Collect 11 stars
Collect 15 stars
1-4 Valkyrie Test
Gimmie a break! I have to take the Valkyrie test all over AGAIN? I hate tests!
Objectives
Clear stage in 120 seconds or less.
Team has at least 1 creature-type character(s).
No more than 1 team death(s).
Notable Drops
1-5 Time Fracture
The "Time Fracture" system? Haven't we already been using it for 6 months now?
Objectives
Clear stage in 120 seconds or less.
Team has at least 1 psychic-type character(s).
No more than 1 team death(s).
Notable Drops
1-6 Plan Celine
What exactly is Plan Celine? And what does it have to do with Time Fracture? Something's not adding up...
Objectives
Kill at least 1 enemies during Time Fracture
Team has at least 1 Mecha-type character.
No more than 1 team death(s).
Notable Drops
S1-3 St. Freya's Campus
Huh? St. Freya High School? Am I dreaming? And what's that whispering voice I keep hearing?
Objectives
Kill at least 1 enemies during Time Fracture
Team has at least 1 creature-type character.
No more than 1 team death(s).
Notable Drops
S1-4 Dream Time
Am I dreaming about something that happened 6 months ago? This is weird!
Objectives
Kill at least 1 enemies during Time Fracture
Team has at least 1 psychic-type character.
No more than 1 team death(s).
Notable Drops
Act.1 Star Rewards
Collect 7 stars
Collect 11 stars
Collect 15 stars
1-7 Burden of Protection
We need to figure out the truth behind the battleship to protect the city and its people below!
Objectives
Clear stage in 120 seconds or less.
Kill at least 1 enemies during Time Fracture.
No more than 1 team death(s).
Notable Drops
1-8 Find the Lock
Go to B8 and open the second lock!
Objectives
Clear stage with less than 25 hits received.
Kill at least 1 enemies during Time Fracture.
No more than 1 team death(s).
Notable Drops
1-9 The Second Lock
We're in B8 now. Let's open the lock!
Objectives
Clear stage with less than 25 hits received.
Kill at least 1 enemies during Time Fracture.
No more than 1 team death(s).
Notable Drops
S1-5 Waking Up
Woke up from the dream... I'm not slacking off!
Objectives
Clear stage in 120 seconds or less.
Team has at least 1 Mecha-type character(s).
No more than 1 team death(s).
Notable Drops
S1-6 Destination: B8
We have to open three locks in order to get into the battleship. The second lock is located in area B8.
Objectives
Clear stage with less than 25 hits received.
Kill at least 1 enemies during Time Fracture.
No more than 1 team death(s).
Notable Drops
Act.1 Star Rewards
Collect 7 stars
Collect 11 stars
Collect 15 stars