Elite Warfare
Past Content
This page contains content that is no longer available. It may or may not return in the future.
Elite Warfare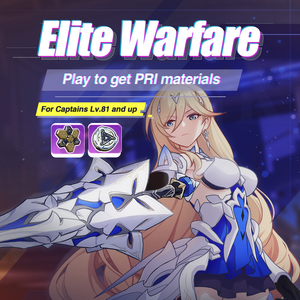 Duration
Aug 07, 2020 ~ Sep 15, 2020
Notable Rewards
New dangers detected! Hyperion preparing to engage!
Time-limited event [Elite Warfare] available!
During the event period, Captains of Lv.81 or higher can claim PRI-ARM materials Einstein's Torus and SC Metal-H2 for completing event missions! Captains of Lv.70~80 will gain bonus EXP for speed leveling by completing event missions!
Elite Warfare: Missions for Lv.81+
[
edit
|
edit source
]
Duration: 10:00, AUG 7 ~ 04:00, SEP 15 Captains must be Lv.81 or higher to participate.
Complete time-limited event missions to gain bonus EXP for speed leveling!
Increase your Captain Level during the event period to claim bonus rewards on the event screen!

Level up to Lv.81 to claim Material Option Type A x8 (each gives Phase Shifter x1 or SC Metal-H2 x3 by choice)!

What's more, the Captain EXP Bonus applied to Captains of Lv.70~80 is increased to 50% during v4.1!