Reburn Version Update
Past Content
This page contains content that is no longer available. It may or may not return in the future.
Reburn Version Update
Duration
Dec 12, 2018 ~ Jan 23, 2019
Notable Rewards
Story challenges overhauled. Reburn the dreaded corruption! What challenges will you encounter as you start your Honkai War campaign once more?
After aeons of slumber, the oriental guardian is reborn in flames! 4th Generation Valkyrie Godsbane-class Battlesuit is completed! The restrictions on S-rank battlesuit [Shadow Knight] are removed!
Fu Hua's S-Rank battlesuit Shadow Knight: Mecha Type Melee battlesuit. Combines physical and lightning DMG, and boasts incredible burst DMG.
Theresa's A-Rank soul-awakening battlesuit Luna Kindred: Creature Type battlesuit, specializes in physical melee attack. Charged attack is strongly suppressive, and can bleeds enemies. Normal attack against bleeding enemies restores HP.
Captains can use the following means to acquire and unlock the new Valkyries:

During December 12, 12:00 ~ December 26, 12:00, [Shadow Knight] and [Luna Kindred] will be available in Expansion Supply.
Luna Kindred Soul can be acquired by participating in game activities or game modes.
*Reminder: Please note that awakened character [Luna Kindred] will NOT appear in Standard Supply.
[HONKAI Reburn]: Chapter 1 & 2 Overhaul
[
edit
|
edit source
]
Chapter 1 and 2 have been completely redone. Start your Honkai War campaign and burn the dreaded corruption once more!
Let us join our hands together and fight for all that is beautiful in the world, now and forever more!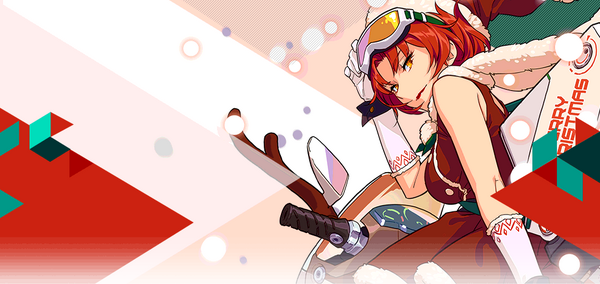 Jingle Bells,jingle bells,jingle all the way~~
Hyperion is in Christmas vibe! HQ has prepared mysterious gifts and Bingo event for Captains!
Spend a fantastic holiday with Valkyries~
Brand New Open World: Schicksal HQ
[
edit
|
edit source
]
Brand new Open World: Schicksal HQ is unlocked. Explore the new world and complete adventure tasks to get awesome rewards~
After the December 12 version update, Captains who have reached Lv.50 and cleared the Third Samsara of Sakura Samsara can explore Schicksal HQ.
In Schicksal Shop, which is in Schicksal HQ, Captains can exchange for the following new items: Phoenix fragment, Luna Kindred soul, weapon Selune's Elegy and stigmata Edwin Hubble.
The Brand New Activity: Time Swirl
[
edit
|
edit source
]
The Imaginary Space is a vast virtual world beyond reality that harbors hidden treasures - the brand new activity Time Swirl rears its mysterious head.
Time Swirl will be unlocked after the December 12 update. Captains who have reached Lv.60 can challenge Time Swirl stages to possibly get equipment drawings. Collect all the materials as described in the drawings to craft rare equipment.
After the BEFALL Stages are closed, you may continue collecting boss weapons via the Time Swirl Advent Valley.
Path to access Time Swirl: Bridge -> Attack -> Challenge -> Time Swirl
The Chronicles will allow Captains to re-experience extra stages for various characters. Chronicles released for this round include: Bronya: Dilemma Dreamland, Kallen's Fantasy and Phoenix's Extra: The Forgotten, all are divided into Story Mode and Challenge Mode.
You can get Valkyrie fragments, Crystals, Coins, Imaginary Cores, and 4-star Equipment in Chronicles.
Path to access Chronicles: Bridge -> Attack -> Attack -> Chronicles
Bronya's Divine Key Stage HOMU Fantasy is available now! Clear the stage to get Divine Key weapon: Star of Eden Cannon.
HOMU Fantasy be available at December 14, 4:00, and it will alternate with Squad Snowwolf every two weeks.
Flame Sakitama's Bride outfits Dream Raiment available.
Valkyrie Triumph Christmas outfits Holy Rose available.
Updated weapons and stigmatas in Hyperion's Arsenal!
[
edit
|
edit source
]
Some new equipment can be obtained through exchange, while other new equipment will be obtained in Supply crates and events.
Supply

Equipment Supply has been added to Standard Supply. Refer to Supply screen for supply details.
Expansion Equipment Supply has been added to Expansion Supply.

The featured items in each round of Expansion Equipment Supply will be 1 weapon and 3 stigmata which are recommended for the featured Valkyries in Expansion Supply for that period. Each Supply Crate costs 280 Crystals or Expansion Supply Card x1.
In Expansion Equipment Supply, Captains are guaranteed to get the UP equipment featured for the Expansion Supply period that they have yet to receive within 50 consecutive drops.
In other words, for the Expansion Equipment Supply, Captains are guaranteed to get all featured UP equipment (1 weapon and 3 stigmata) within 200 supply drops.
Captains can enjoy this guarantee only once during each period of Expansion Equipment Supply.
Captains can check UP equipment they have currently received in the Expansion Equipment Supply screen. (Received equipment will be marked as "√")

This function is only available in Expansion Equipment Supply.

After the version update, the Expansion Equipment Supply and the Expansion Supply for Shadow Knight will be simultaneously available. The UP items in Expansion Equipment Supply drop rates will be different from those of Regular Focused Supply.
Focused Supply has been divided into A & B pool. Drop rates will remain the same.

The Focused Supply Crates you have opened will be counted as crates of Focused Supply A, and the number of crates you have opened in Focused Supply B will be reset.
The number of crates you have opened in the 2 pools are counted separately. For example, the crates you have opened in Focused A will be counted in Focused A. The rules of calculation and guaranteed drop of every 10 crates will remain the same. All calculation regarding Focused A will not influence your Focused B drops.
The Wishing Well will open every time a stigmata set is UP in Focused Supply A or B. The Wishing Well is now permanently opened.
Monthly Card

Optimized the way to claim Monthly Card benefits. A new screen to claim Monthly Card benefits has been added.
Captains who have purchased a Monthly Card can directly claim Crystal rewards for the day from the Monthly Card Bonus page after logging in to the game. Crystal rewards will no longer be issued by mail.
Each Monthly Card is effective for 30 days.Captains can get an extra 500 Crystals each time when you've claimed Monthly Card Crystals for a total of 15 days.

Note: The requirement to claim a total of 15 daily bonuses refers to total number of days, regardless of time span.
Growth Fund

Captains who have reached Captain Lv.6 can purchase Growth Fund. You'll receive Crystals and Coins when you reach Captain Level 15, 30, 40, 50, 60 and 70. You'll receive a total of 4500 Crystals and 2800k Coins.

(The exact available period will be announced in later in-game announcements. Please be patient, Captains.)
Stages

Chapters 1/2 on Normal difficulty

Overhauled storyline, CG anime and valkyrie voice. Optimized chat mode in Story.
Reduced the number of stages in Chapter 1 and 2 on Normal difficulty (number of Hard and Supreme stages remains the same).

You'll get the same first completion EXP from Chapter 1 and 2 Normal as in former versions.
Considering the decrease of stages, we'll make compensation for the following rewards that you may miss. Compensations will be sent to Captains through mail.

Unclaimed Objective Rewards in deleted Chapter 1 and 2 stages (on Normal) before the update;
Unclaimed chests for completing star challenges in deleted Chapter 1 and 2 stages (on Normal) before the update;
Captains who have not completed Chapter 1 on Normal will receive Crimson Impulse Fragment x10 and Valkyrie Chariot Fragment x10 as compensation.

Please claim the compensation above in time. Compensation will expire 90 days after the update.

Note: After the update, Objective Rewards and Star Chests progress of undeleted stages will not be reset.
300 crystals and Himeko and Xmas Gift Log-In Campaign upon log-in