Speedrun Challenge
Past Content
This page contains content that is no longer available. It may or may not return in the future.
Speedrun Challenge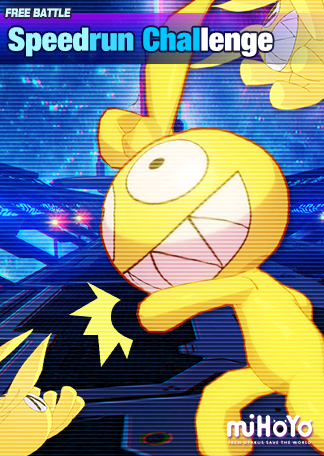 Duration
Aug 22, 2018 ~ Sep 06, 2018
Notable Rewards
Prepare a lineup of random Valkyries, weapons, and stigmata and see how you handle the situation! Compete against other Captains in this speed challenge. Test and improve your resource allocation and battlefield command skills for a chance to get the ★4 stigmata: Himeko: Summer Holic (M)!
Captains must first acquire an activation device to participate in the Speedrun Challenge.

A number of these devices will be available free during the event. They can also be exchanged with Honkai Pieces or Time Structures.

Captains will receive different quantities of Speedrun Challenge Tokens by participating in the Speedrun Challenge. Earn higher rankings to get better rewards!

When the event ends, the system will refer to the Captains' Speedrun Challenge tier and issue rewards of Speedrun Challenge Tokens and Twin Soul Crystals.

Clearing weekly event missions will also provide rewards of Speedrun Challenge Tokens and decoration materials.
Until September 12, 04:00, Captains can use the Speedrun Challenge Tokens to exchange for the ★4 stigmata: Himeko: Summer Holic (M) and other materials.
Captains Lv.15 or above can participate.
Captains will first form a lineup by choosing 3 of a set of random Valkyries and gear them with randomized equipment.
Captains must complete their lineup (3 Valkyries, weapons, and stigmata) to start matches.
Every Speedrun Challenge round will randomly match 5 Captains together.
Captains participating in the same Challenge round will enter racing lanes at the same time. The first Captain to reach the finishing line wins.
Captains will get random items during the Challenge. These items can be used against other Captains for special effects and laughs.
Points earned during the Speedrun Challenge will be used to calculate a Captain's ranking tier.
After completing a Speedrun Challenge, Captains will be rewarded according to their rank for said Challenge.
| Objective | Reward |
| --- | --- |
| Participate in Speedrun Challenge 3 times each week. | |
| Participate in Speedrun Challenge 6 times each week. | |
| Participate in Speedrun Challenge 9 times each week. | |
| Participate in Speedrun Challenge 15 times each week. | |
| | | | | | | |
| --- | --- | --- | --- | --- | --- | --- |
| Reward | | | | | | |
| Tier | SSS | SS | S | A | B | C |
Speedrun Challenge - Aug 22, 2018 - Sept 06, 2018
x 2
x 1
x 300
x 5
x 5
x 5
x 10
x 10
5 per week
1 total
1 per refresh