Thanksgiving Blessings
Past Content
This page contains content that is no longer available. It may or may not return in the future.
Thanksgiving Blessings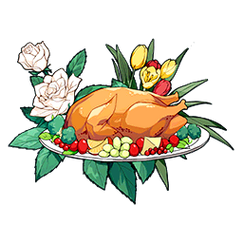 Duration
Nov 28, 2019 ~ Dec 26, 2019
Notable Rewards
With Thanksgiving around the corner, it's the perfect time for the HQ to show its deepest gratitude to Captains! We have prepared a special Thanksgiving surprise for you, and more gifts are waiting for you to unwrap!
Duration: NOV 28, 12:00 ~ DEC 26, 04:00
What? Valkyries are looking everywhere for Captain? What are they trying to tell Captain about? Claim the story item in your mailbox and use it to unfold the story! Turn up the volume, 'cause the story is voiced by none other than our beloved special guest Hanser, the voice for Bronya and the performer of Bronya's theme "Cyberangel"!
Please change the Voice Language to Chinese, download the voice pack, and use the item to unfold the story!
Duration: NOV 28, 12:00 ~ DEC 5, 12:00
Bronya and Seele have invited Captain to play games with them. How will Captain get along with them? Participate in Facebook Chatbot event and complete the interactive story for a 60-Crystal redemption code!
Join them now!